Ngāmotu's Puke Ariki will set the stage for a whimsical synthesis of performers, librarians, and visitor hosts, guiding audiences on a fantastical journey in ArteFact as part of the REIMAGINE Festival on October 11 & 12.
This playful site-specific dance/theatre work created by Arts Laureate Ross McCormack considers the reverence we place on objects housed within formal spaces such as art galleries, museums and libraries and our behaviour in relationship to the conventions of these buildings.
Inspired by the physical structure of the Auckland War Memorial Museum Tāmaki Paenga Hira and the tireless work of the visitor hosts, security guards and all who work at the iconic institution, ArteFact: How to Behave in a Museum premiered as part of the digital programme at Auckland Arts Festival in March 2022.
A reimagined ArteFact was presented in the second half of 2022 at both Dunedin and Nelson Arts Festivals before performances at The Arts Centre Christchurch and a return by popular demand to Auckland War Memorial Museum Tāmaki Paenga Hira.
In ArteFact, rabbit holes of possibility open for a synthesis of performers, visitor hosts, security guards and art experts inviting audiences to disrupt the tension often on display in formal spaces.

Developed to be presented "bespoke" in a range of different buildings, McCormack masterfully fuses signature elements of physical theatre and comedy interwoven with his iconic style of movement to reveal some irresistible secrets of the human experience.
ArteFact is performed in promenade and you never know who might be leading you on a mischievous journey, where they may take you or what they may teach you about historical objects, visual art and lanyards.
Get your tickets now to the Taranaki Arts Festival presentation of ArteFact now!

REIMAGINE ARTS FESTIVAL 2023
Read more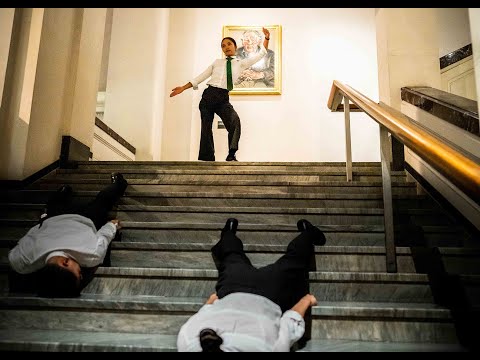 2022 National TOUR
Dunedin
Dunedin Arts Festival
Dunedin Public Art Gallery
Saturday 22 October at 5.30pm & 8.00pm
Sunday 23 October at 5.30pm & 8.00pm

Nelson
Nelson Arts Festival
The Suter Art Gallery Te Aratoi o Whakatū
Friday 28 October at 6pm & 8pm
Saturday 29 October at 6pm & 8pm

Christchurch
The Arts Centre
Wednesday 2 November at 6pm & 8pm
Auckland
Auckland War Memorial Museum 
Tāmaki Paenga Hira
Grand Foyer
Tuesday 8 November at 5.30pm & 7pm
2022 PREMIERE SEASON
Auckland
Auckland Arts Festival
Auckland War Memorial Museum
Digital Streaming
20 - 27 March
REVIEWS
"Soothsayers of subtlety and nuance…The New Zealand Dance Company has a hit on its hands with Artefact…depth, invention and surprise fizzes freshly from the screen…a stylish and witty commentary on the precious objects housed in a museum and the kaupapa surrounding them"
Lyne Pringle, Theatreview
READ IT HERE
Other Works
Whakaaturanga